Thankfully through technology, God has given us the tools to remain connected to one another digitally. Whether you're already in a Small Group or would like to join one we have created an online experience for you to gather together during this time of social distancing.
Small Group Meeting Schedule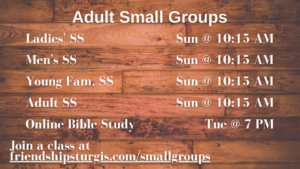 Join Zoom Meeting
Please allow 10-15 minutes the first time you join as you will need to download the "Zoom" application.
If you are not currently part of a Small Group, contact a staff member or fill out the form below to be added to the reminder list.
One Tap Mobile (audio only)
This can be used on any phone even without app. Click on one of these links and make call, use 6624658806 as Meeting ID and Password. If you get an "all circuits are busy" message, hang up and try again.
or
Small Group Enrollment
Not involved in a Sunday School Class or Small Group? It is easier than ever! Just fill out this form and you'll be enrolled in online group of your choice. You'll be notified of your group meeting via weekly text message.